back to nav
Monday | 30/05-2011 | By Henrik Friis, Mik Stegger, Anders Jørgensen, Vasilis Panagiotopoulos
Fine reactions at SPOT Festival 2011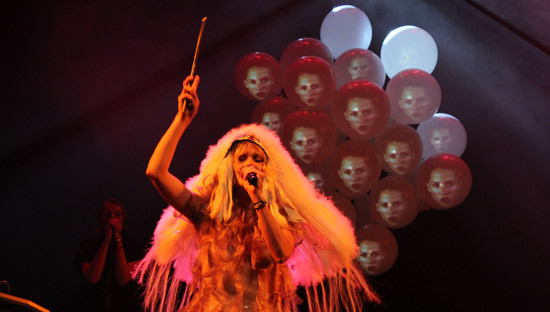 Oh Land - praised pop (Photo: Peter Gaardsøe)
The SPOT Festival is over, and the reactions from the international guests have been unambiguous. There was a general satisfaction with the festival and a broad consensus that the music was once again on a very high level. Over the next few weeks we shall see the first reactions from the press, but here are the first comments made at the festival.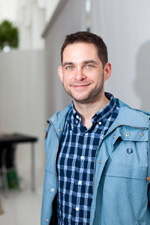 (All portraits taken by Allan Henriksen)

Jonathan Galkin, executive director of DFA Records (LCD Soundsystem etc… ), New York (US)
It's my first time at SPOT, and it's great to be here. I meet with bands, bookers, festival associates and managers, listen to the music and get a panorama view of where Danish and Scandinavian music is right now. Last might I heard Iceage for the first time – everybody in the US is speaking about them at the moment. It's great to see a band on their home turf for the first time, instead of in New York. I am really looking forward to When Saints Go Machine, whose last album was fantastically beautiful. I cannot think of anything that sounds quite like them. And then I heard Helsinki Poetry, that might not be in my taste, but who looked like they where born to stand on a stadium stage and play. This is a general characteristic of the bands I have seen. They may be local, but they have global potential.
Ralph Christoph, c/o Pop Festival, Köln (DE)
-This is my first visit to SPOT, but if I compare it to other showcase-festivals, I have to rate it 10 out of 10.Everything fits Stages, communication – the works. I knew a couple of the bands playing the festival, Kiss Kiss Kiss and WhoMadeWho – which both have visited our festival – besides Cody and Alcoholic Faith Mission. But I experiences Vinnie Who, a band that really could be a hit in the Cologne-club-scene. They are really tight. They created a great vibe, and actually quite non-Danish….!? And then Treefight For Sunlight, that was West coast-pop and good songwriting with a big potential. Besides this the collaboration between Akiri and Chinese B6 extremely exciting. All in the entire whole SPOT concept is very interesting.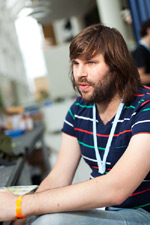 Henk Kanning, anchorman for the 'New Music'-show on Dutch Kink FM (NL)
It's my second year at SPOT, but I have been going to Roskilde Festival for many years, and have always had an interest in Danish and Scandinavian music. I focus on music from Scandinavia in my programs, so in that way it's great to be here. Scandinavian music is a couple of years ahead of music in Holland and is seldom just a replication of something already existent, but always has its own vibe, especially when it comes to the Danish and Icelandic bands. A artist such as Agnes Obel is gaining popularity in Holland right now – because she has a quite dark and melancholy sound. Another difference is, that it seems ok to experiment on the Danish music scene and the audiences accept this. In general it seems that bands have better opportunities to develop their sound, than in Holland. SPOT is very cozy, keeps high standards and is exciting to be at, because you constantly can move to new spaces and listen to music you don't know. It's awesome!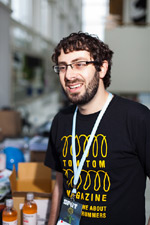 Dan Koplowitz, Friendly Fire Recordings (US)
I was here two years ago, and must simply say, SPOT is one of the best organized festivals I have ever been to. Everything is within walking distance, and the size of the festival, also means that you have better opportunities when it comes to meeting new business associates, in contrast to the larger showcase-festivals, where you almost only just have time to say your hellos. Denmark is a small country, but there is SO much great music. I can't really give you a specific reason, besides the way that you support your music industry. It really impresses me and makes me a bit jealous. Name of the year? For me it was Treefight For Sunlight, who have a good ear for melody and pop – while being quite wild. Though The Migrant and Cody also made an impression.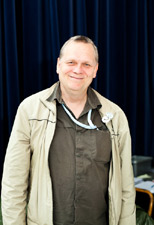 Arni Matthiasson, music journalist, Morgunbladid (IS)
This is my fifth or sixth time at SPOT, and I must say, that it is one of the best festivals of those I visit regularly. The best thing is, that I haven't heard most of the music, that SPOT presents, and the main quality of bands has gone risen. There is a larger variety of style – yes I add; the program is more adverse this year. The best thing this year? Norwegian Honningbarna, Faroe Island, Budam and Swedish jenny Wilson – and of course Figurines and F.U.K.T.. – who where live drum 'n' bass. All in all: This has been my best SPOT Festival so far.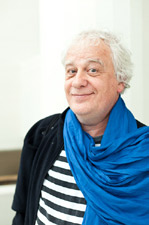 Jean-Louis Brossard, Trans Musicales festival, Rennes (FR)
My favorite must definitely be Vinnie Who, because of the disco-inspired sound. There has also been good concerts with ¤Guys From The Future and F.U.K.T., who played at the exact right time, with their dub step-like sound. I was also very impressed by the energy that Honninhbarna exercised – and the same with Powersolo.
The program is very compact, but there is a great energy here, lot's of cool people and what a great city. I am here for the fourth time and I love to be here.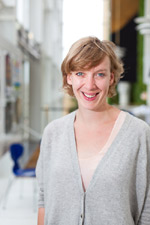 Tess Kendall, !K7 Records (DE/UK)
It has been a fantastic first time experience. I like the size of the festival, the stages are close to each other, the sound excellent and I am especially impressed by the conditions in the Music Hall Aarhus.
The festival is good, because it hasn't been difficult to find people – and at the same time I have learned
a lot about Danish music while I've been here. We have already signed When Saints Go Machine, and there really seems to be an edge to the music here. Copenhagen is hot, you have the world's best restaurant, you have great music, and you have fashion. My favorite bands at the festival where –Threefight For Sunlight – it was cold when I saw them, but they gave me a warm feeling. And it was fun to se them in their element, where the audience knows every word they sing – the reactions where clearly different than when I last saw them. I loved Iceage: Total-noise fantastic. 80ths UK-punk-attitude, I-Don't-Really-Care -. Wonderful!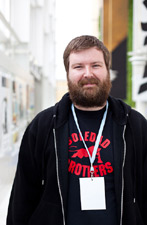 Luke Slater, journalist Drowned In Sound (UK)
This is my first SPOT-experience, and it has been exciting. Both the City Clash Thursday, with 40 bands in one street, that was fun – and then the festival itself, it has been really good. Everything I so close and the setting is perfect. Danish and Nordic music is well heard in England at the moment. It is as though we now also acknowledge, that there comes a lot of good music from your countries. And it's not just a trend. A festival like this really shows that. Treefight For Sunlight where exciting, they where fun – and also serious about their music. But in general I haven't seen anything I thought was bad.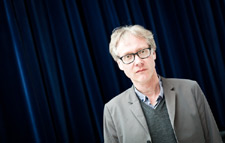 Kieron Tyler, music critic, Mojo Magazine (UK)
When you have visited the festival several times as I have, it is interesting to experience how the music changes its expression. This year has been very pop. Not in the old fashioned Top 30 kind of way – more in the sense that the bands use pop independently. Oh Land, Fallujah and Treefight For Sunlight all submit to this category.
There is a feeling about Danish music that I have been thinking about for a while, and here at SPOT I actually managed to put it into words. In the same way that I have come to a conclusion in my comparison between Danish and Swedish music; that Danish music is less linear and more jagged. Great experiences this time have been: Vinnie Who, Hymns For Nineveh (amazing show), Helsinki Poetry, Oh Land, Just A Number, Kira Skov – and the opening concert in the church with Our Broken Garden was a great and special experience.
As always the setting is superb – the stages function well, even though the groups in the tents had a hard time because of the cold. And I believe the audience develops: It's a kind of communal feeling – a general feeling of that Danish music really has quality, greater self-assurance and belief in own abilities. Suggestions? Maybe the program should be stretched over three days – there is SO much music at once and you feel as though your missing out on a lot.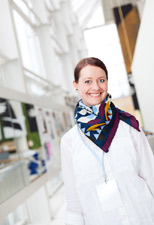 HelenSeldna, booker, Talinn Music Week (EE)
I go to quite a few festivals in Europe, and the SPOT Festival is one of my clear favourites. Because of the variety of the concerts and the Danish bands' high level. From an artistic point of view it is interesting to be here, and at the same time the entire festival has a clear focus on the music in all its events – also the seminars and meetings. We find a lot of inspiration here for Tallinn Music Week
Klaus Fiehe, music journalist, 1 LIVE RADIO (DE)
This was my forth SPOT Festival in a row. What I really appreciate is first of all the overwhelming and intensive communication with so many and so different people. For example: I had very nice talks to Oh Land and Jenny Wilson without having an interview date. It just happened - we ran into each other. People in general are very warm hearted.
Talking to other people and trying to describe SPOT I sometimes compare it to Eurosonic/Groningen. But SPOT is more familiar, more intense. The area is ace, short ways and so on, I myself witnessed about 35 shows this year plus 2 or three panels.
My faves in 2011: Jenny Wilson was ace. I haven´t seen such a show for years to be honest. Next came - in no particular order - Treefight For Sunlight, JJ, the sensational (!!!) Rangleklods, Vinnie Who, Oh Land, some weird finnish guys like K-X-P and Siinai (gosh! what a brillant noise). And the very very young Aarhus band Waldo & Marsha. They haven´t released anything yet but - typical for SPOT!
Paul Cheetham, booker, Popkomm (DE)
SPOT Festival goes from strength to strength. Brilliant organisation, great location and another very interesting line-up. There is definitely artists that I found here that I'll book.
Andy Malt, music journalist, CMU (UK)
This is my first time at SPOT and I've been really impressed with the quality of the music I've seen. The opening concert by Our Broken Garden at Aarhus Domkirke was incredible and I've watched so many more great bands play since then, some I knew already and many more I didn't. This has been an amazing chance to discover new artists, and I'll got back to London next week with plenty to write and talk about.