back to nav
Friday | 27/05-2011 | By Esther Maria Brakl
SPOT on people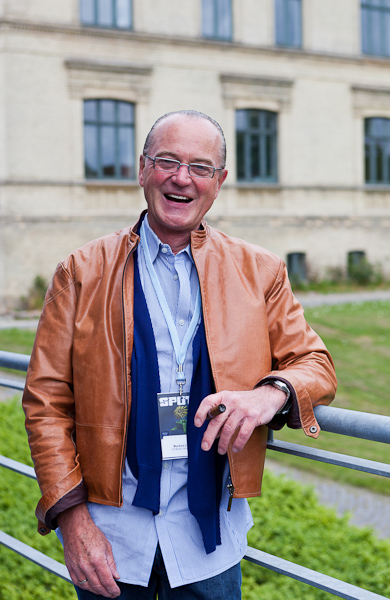 Foto: Allan Henriksen.

Manfred Zähringer
Director of Iceberg music group.
How long have you had Iceberg?
-I've been running the company for 30 years; it's still paying the bills.
Where did you start the company?
-I started it here in Denmark, and have been living here for forty years.
What is it Iceberg does?
-Iceberg is a label, we started of as a label, and the learned that publishing is quite important, maybe the most important thing. So we wouldn't produce without having the publishing side, publishing turned into a more vital part of Iceberg, because we pitch/plug songs with other artists around the world. We do a lot of synch business, where the publishing is very necessary, to be in a position of, at least to administrate. It helps to do fast clearing: when a possible client or movie production company or ad agency, takes a song from our database, and they have to clear the song with the publisher, they have to negotiate, agree on the terms, and then the same with the master. So as we own the publishing rights and master, the clearing is sometime given on the phone, as an example.
So you company is branching out, and you have an array of ways to do music placement.
-Yes and it's quite logical that we do it in Denmark first, where we try to get them on the national radio, which for a rock band is quit necessary. The local radios don't break a band. And with all the travel arrangements I have ca. 120 a year, I have travelled a lot the past 30 years. I've tried to find connections and networks, working with record companies or during the last ten years more and more music companies, and ad agencies for synch.
That's where the money comes from today, record sales are non existent. If we don't find the right label, in another country, like European countries, we put it out on our own label Iceberg, to buy the promotion which is necessary, radio promo, online promo, press promo; in every country it's very expensive. And hope that something happens, that it get's picked up.
Today as I said, record sales are very difficult, not just in Denmark, so our work helps the band get better paid shows in other countries and in Denmark.
What bands do you have on you repertoire at the moment?
-We sign one or max two bands a years, and two is a lot for us, as it takes a long time to establish a band. So the best running bands at the moment are The Blue Van and Duné, which we license to Sony outside of Scandinavia, to European countries. And just signed Kiss Me Scarlett that is playing today. All Danish bands.
The biggest success we ever had was not rock but a dance record made by an American named John Larkin, and we turned it around to Scatman John, and made an enormous amount of money, we spent within seven years investing in rock bands.
How long have you been coming to the SPOT Festival and the Music Export Denmark lunch?
-During the past, I guess seventeen years, since it started. The MXD is quite new, other festivals sure; it's networking, conventional fairs. Well of course to promote the band and to meet people.
What do you see MXD contributing with also considering that it is government supported?
-If I can go from a scale from 1 to 10 MXD will get an 11. Because we couldn't do, it's not for every band, but if we didn't get the support from the Danish government, MXD and ROSA of course, we could do what we do, and on the other hand if you are successful with the export, as I say the money comes back through the taxes, bands making merchandise, earnings, so I think it's a fair business. Certainly we work our butt of, we have to, we should.
Are there any bands here in particular you want to see?
-Not directly, I go from band to band, and try to avoid too many panels, but sure certainly I am here for the music; I see most of the bands.
A little bit, ten minutes here fifteen there…
SPOT festival is a very important forum for us, first of all it's just a homerun, and it's getting more and more international, so it's a perfect networking place for us.