back to nav
Thursday | 14/04-2011 | By Stefan Rasmussen
InterSpot: Five Band Pairings at SPOT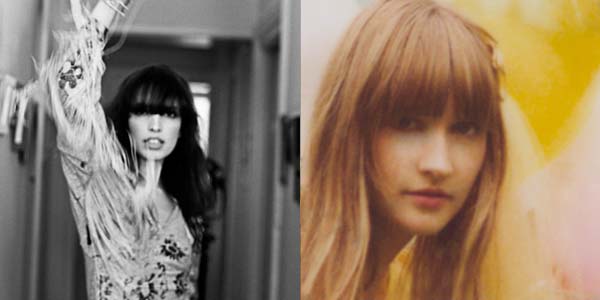 CallmeKat has recorded with Erika Spring - now they'll be playing SPOT together..


In 2010 InterSPOT presented a long list of international bands at various venues in Aarhus. This year the number of InterSPOT acts has been cut down to five. In return each concert is a double bill.
Because this time the concept is that each concert will be a joint project between an international and a Danish act. The artists have not, however, been paired by the SPOT Festival, but have got together on their own account and have then applied to play at SPOT.
"We spread the word in international music circles that international bands who wanted to play at SPOT would be very welcome if they hooked up with a Danish or Nordic artist", says Christian Hald Buhl, who is the project coordinator on InterSPOT.

"The Rules are simple: the concerts last 40 minutes and must include four or five songs from each of the two acts' back catalogue. And at least one member from band A must be on stage when band B's songs are performed.
By mixing international and Nordic acts we hope create fruitful collaborations with serious potential in both the Danish and the international music business and music press", says Christian Hald Buhl

One of the concerts will feature Kiss Kiss Kiss, who have hooked up with their Austrian colleagues in the band Ginga, whom they met in 2010 at the SPOT On Denmark night in Vienna. Kiss Kiss Kiss are known for their melodic pop rock, whereas Ginga explore a more folksy kind of rock.

The guys in Ginga are currently on tour in Germany but are simultaneously preparing for the collaborative project at InterSPOT. "We are in the process of choosing what songs to send to Kiss Kiss Kiss. To make it as fresh as possible we think we just might try out some brand new songs. So in a way it will be double première: brand new Ginga material performed with the assistance of the musicians from Kiss Kiss Kiss", the manager of the Austrian band Jeroen Siebens explains.
Danish CallmeKat's collaboration with Erika Spring (US) from the group Au Revoir Simone is also really remarkable. Their collaboration has been going on for some time now and also involves New York producer Jo Magistro and British bass guitarist Sara Lee from Gang of Four and the B-52s. Together they create cross-Atlantic electro pop, and Erika Spring's influence will also be evident on CallmeKat's coming album.
Furthermore, InterSPOT also presents:
Let Me Play Your Guitar (DK) & Talking To Turtles (DE)
The new Danish folk rockers fronted by the brothers Jeppe and Emil Davidsen will join company with the acoustic singer/songwriter duo from Germany.
Akiri (DK/BIH) & B6 (CN)
80s video game console sounds in vintage 8-bit style from Danish/Bosnian Akiri will fuse with electronic music all the way from Shanghai, China.
ORKA (FO) & Ben Osborne (UK)
Homemade Faroese instruments made of fence posts and pressure vessels will be sampled with electronic beats straight from the English club scene.
On top of that there are two chances to see each double bill as the projects will all play one concert at one of the two Aarhus venues Musikcafeen (26th May) and Train (27th May) and another concert at the SPOT Festival (27th and 28th May). In other words no excuse for missing out on these once, er, twice –in-a-lifetime events!